Starting Oracle EPM 11.1.2.3+, ODI is automatically installed with FDMEE. In addition to installing the FDMEE UI, it creates ODI repositories, installs the agent, sets it up as a service and configures it all to work together out of the box. The only thing missing is the installation of the ODI Studio.
In this blog, we will describe the steps to install Oracle ODI Studio.
First of all, binaries must be downloaded from the link bellow: (you must download ODI 11.1.1.7 since FDMEE uses ODI 11.1.1.7 engine)
https://www.oracle.com/technetwork/middleware/data-integrator/downloads/index.html
Once you downloaded, unzip the files:
Run the setup.exe file using the following command : >setup.exe -jreLoc E:\Oracle\Middleware\jdk160_35
Once setup is launched, the Welcome screen will appear. Click Next:
click on Skip Software Update then click Next:
During FDMEE installation, Agent and all other ODI components are already installed, so tick only ODI Studio then click Next:
Click Next:
Click Browse to locate the ODI Home, we will use the same Oracle Middleware as EPM:
Select The ODI Home then click Open, then click Next:
Click Skip Repository Configuration then click Next and then Install to finish:
Once the installation is finished, click Finish.
Now we can start ODI Studio to connect to FDMEE repositories:
Click the (+) to add new login:
Insert the information bellow then specify work repository: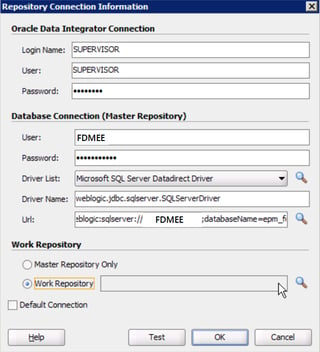 Choose FDMEE then click OK and finally connect: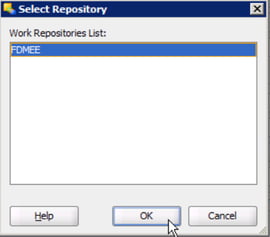 The installation is done, you can now modify ODI settings, access the operator, etc… using the ODI Studio.
Some functionalities offered by ODI Studio:
Connect FDMEE to a SQL table (It will be detailled in a new post)
Connect FDMEE to EBS
Manage Interfaces schedules
Manage Maintenance schedules